Memorial Day is about recognizing the sacrifice
y: Cheri Brubaker - Updated: 1 month ago Posted May 26, 2020 Memorial day calls for recognition of the sacrifice made by Americans in the line of duty in service to our country. Always marking the unofficial beginning of summer, it's a day off or a super-busy day at work, depending on the job. Some determinedly shop the Memorial Day sales. If you are so lucky to be invited, there's a pool party, a barbecue, a cook-out. Maybe even fireworks and a parade. It's a long weekend, great for a getaway, for camping, hiking or a fire on the beach. It wasn't until I married a veteran that I began to truly understand the meaning of duty and comprehend the sacrifice made by so many. When our child was very young, my husband began taking him to a small ceremony honoring local veterans on Memorial Day. There was a veterans museum on the Capitol Square in Madison, Wis. We all logged many hours there, learning about our country's wars and the men and women who fought them. When my husband's father died, I felt it for the first time. Buried in a ceremony with full military honors, Slavko Turkaly was a World War II veteran of the United States Army. Everybody called him Turk. He had, at many different times, served as commander of the honor guard performing the three-volley salute that day. My husband says his dad didn't talk about the war much. There aren't many left in Turk's generation. While I didn't grow up in a military family, my perspective has been altered by the pride my husband takes in his service in such a humble way. He taught us to respect and honor the veterans of the armed services in the most obvious way, by doing it himself. I understand now. I didn't before. So maybe all those people disregarding science, gathering, refusing to wear masks just don't understand. Maybe they don't know. Maybe when they do understand, as there will surely be consequences of this rush to celebrate the weekend, they will take better care. These are unprecedented times. It's kind of like we're all being asked to sacrifice. For some, it is much harder than others. Some of us can do more than others. I know several who are sewing masks. Others are donating money or food. Many are experiencing difficulty. All of us should do what we can. It takes nothing to be courteous, to cover our faces when we go out among the most vulnerable. Cheri Brubaker is a reporter at the Newport News-Times. She lives on the Oregon coast.
https://newportnewstimes.com/article/memorial-day-is-about-recognizing-the-sacrifice
A group of volunteers turned out at Eureka Cemetery in Newport on Saturday morning, May 23, to pay tribute to those who served this country by placing more than 900 American flags at the graves of veterans. One of the volunteers was Mike Whisman, center, of Portland, who is a Marine Corps veteran. On the left is Kharizma McAnulty, Eureka Cemetery's new manager, and also pictured is her husband, Spencer McAnulty. (Photo by Steve Card)
Wonderful helpers at Eureka Cemetery
Posted May 28 2020
I would like to take this opportunity to express my deepest gratitude to the men, women and young adults helping at Eureka Cemetery on Saturday, May 23. This was such a well-organized group of volunteers, who placed flags on the veterans headstones, cleaned the headstones so people could find their loved ones and voluntarily helped others, as well — me being one. This was a huge undertaking this spring. The rain helped the grass shoot up, and getting everything looking so nice was a tremendous undertaking. I so appreciated all of their hard work. I have honored my family at the Eureka Cemetery for many years, and this was the very best year. The grounds were mowed and the Memorial Flower Garden looked so nice. I went with all the tools to do what I needed to do, but didn't really need to use any of them. What a great group of people. Thank you once again for all that help. Donna Ghormley, Eddyville
https://newportnewstimes.com/article/wonderful-helpers-at-eureka-cemetery
Thank you for honoring our veterans
Posted May 28, 2020
Eureka Cemetery was honored to provide a virtual Memorial Day program this year with Bateman Funeral Home. We hope you were able to visit us on Facebook to watch our flag being raised by Petty Officer 3rd Class Curtis Williamson of U.S. Coast Guard Station Yaquina Bay, and poetry read by World War II Petty Officer 2nd class Lee LeMasters. The annual tradition of placing almost 900 flags on the graves of veterans buried at Eureka Cemetery is a huge undertaking that is taken on each year by Larry and Mary Silverthorn, Dave and Pam Cole and volunteers from the Church of the Nazarene. We thank all the volunteers, families and staff who helped this year. Thank you for honoring our veterans.
Kharizma McAnulty, Manager Eureka Cemetery & Mausoleum
https://newportnewstimes.com/article/thank-you-for-honoring-our-veterans
Memorial Day May 30, 2016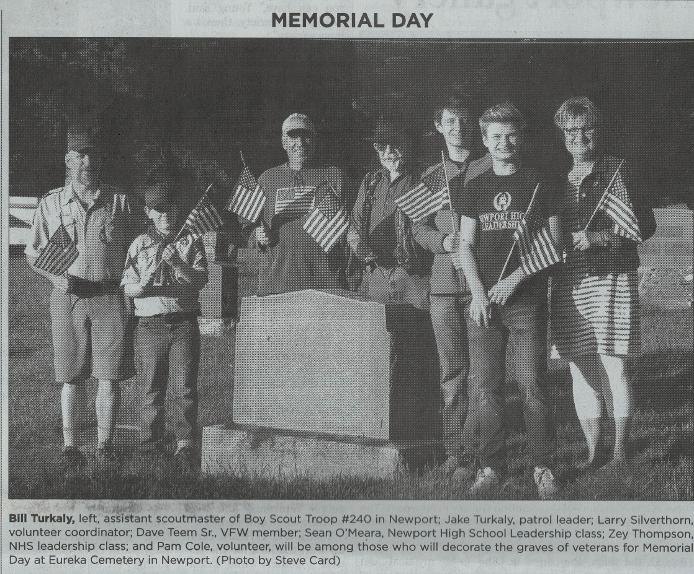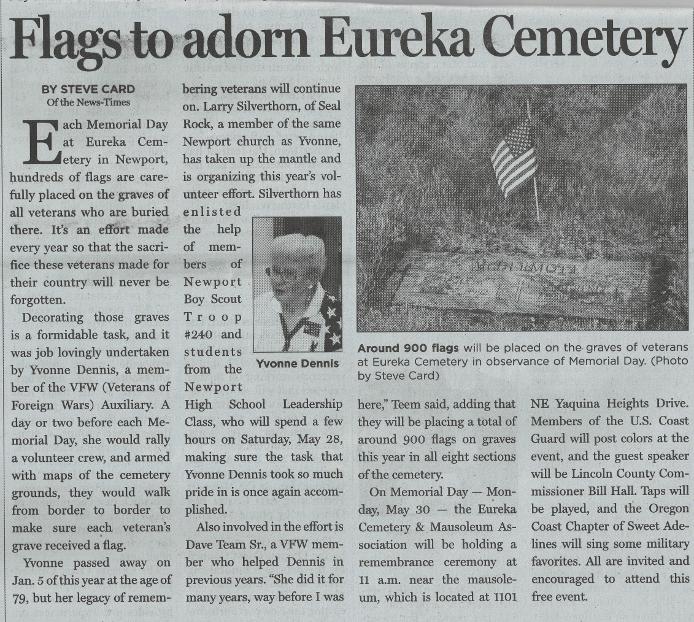 Due to the large cost, estimated up to $350,000, we have not been able to repair and restore our grounds from this slide.
Webmaster: K McAnulty
Copyright: 2015
Eureka Cemetery & Mausoleum Association